---
---
Your contact person
Sales Department Porta Westfalica
Phone: +49 5731 680-0
Fax: +49 5731 680-183
Core competences
of the Masa laboratory
The composition and quality of the raw materials, which are mostly available regionally, as well as the design of the production process directly influences the quality of a finished product. Masa GmbH does not only see their competence as an efficient machine and plant manufacturer, but also as a supporter and advisor in the design, manufacturing, and processing of products.
Over the past decades, the Masa laboratory has continued to be developed in order to cope with the increasing requests for support. Thus, laboratory technology for comprehensive product testing is available today*. Masa supports quality assurance with a high level of expertise, both analytically and in an advisory capacity.
Raw material analyses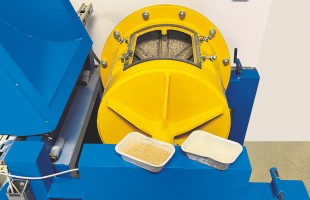 The first step in developing and manufacturing aerated concrete and sand lime brick products is the selection of appropriate raw materials. All relevant tests of the required raw materials such as, sand, cement, and lime, can be carried out in the Masa laboratory.
Cooperation with research associations and universities
In case more chemical and mineralogical analyses are necessary, these are carried out in cooperation with research associations and universities. Among other analytical techniques, X-ray fluorescence analysis (XRF) and X-ray diffraction analysis (RDA) are carried out there.
Laboratory scaled AAC blocks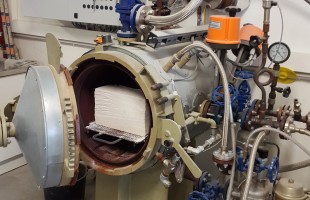 The Masa laboratory provides optimal conditions for the production of aerated concrete blocks on a laboratory scale and is equipped with comprehensive laboratory equipment.
To simulate a realistic hardening process, the Masa laboratory is equipped with a lockable autoclave with a volume of 200 l. The autoclave is equipped with a liquid ring pump to generate a vacuum of - 0,6 bar.
The values determined in the laboratory are are considered for further recipe optimizations, and this helps to evaluate the raw materials provided by the customer. The data determined in the Masa laboratory can easily be transferred to a large-scale plant. Thus, the raw materials can be selected during the planning period, which helps to reduce the time required to start-up the plant.
Advice, technical support and transfer of knowledge
Of course, customers can benefit from additional technical support by Masa experts when the plant has been taken into operation to generate the best possible products.
In addition, laboratory technicians and plant operators get access to the comprehensive Masa instructional material dealing with the topic "process technology".
Masa can also organize seminars specifically designed to individual customers to train them in the fields of sand lime brick and aerated concrete production.
Contact us!
*Note: The Masa laboratory is currently available for analyses of the product ranges "AAC" and "Sand lime bricks".